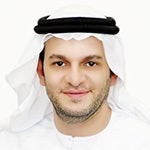 2021 Winner Profile
Dubai Taxi Corporation
Hisham Airan
RANK: #17
COMPANY WHERE WON: Dubai Taxi Corporation
AWARD DETAILS:
As operations control and data analysis manager for Dubai Taxi Corp, Hisham Airan makes sure to work on IT system utilization reports and presentations to show how the technology that is being procured is impacting business. A recent project to integrate camera operation with meter start, for example, has generated a return on investment by decreasing fraud and ensuring that revenue for all trips is booked accurately.
The system can generate alerts for incidents including: leaving Dubai without a customer; idling while the engine is on; staying outside Dubai for more than 2 hours; no trips for 2 hours; and roaming in low-demand area.
Airan's guiding philosophy is to ensure that everybody on his team understands why is he doing his job and how each task contributes to the organisation's ultimate goals and objectives. This is accomplished by giving periodic training for management skills in addition to technical issues, in order to expand ways of thinking about problems, and enabling staff to come up with new ideas that are useful for business.
LOCATION: UAE
INDUSTRY: Transportation and Logistics Industry