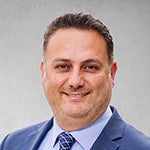 2021 Winner Profile
AMSI
George Akhras
RANK: #18
COMPANY WHERE WON: AMSI
AWARD DETAILS:
AMSI provides services including school design and construction, curriculum planning, and academic-related related IT services; it counts 6,000 graduates among the schools it works with. With all schools shut down, distance learning was the only solution for continuing education.
Time was of the essence and many steps had to be done to provide a working, sustainable online system, explains George Akhras, CIO at AMSI. The organization integrated a virtual classroom plug-in to its existing Learning Management System, in the course of doing so deploying many load-balanced servers and remotely training teachers and staff.
Long-term AMSI is inspired by, among other initiatives, the UAE Blockchain Strategy 2021. AMSI has digitised the academic credentials of graduating students of Al Mawakeb schools and the International School of Arts & Sciences, applying blockchain to the issuance, management, and exchange of credentials such as certificates, transcripts and diplomas. The graduating class of 2019 was the first to have their school diplomas issued digitally on the blockchain.
LOCATION: UAE
INDUSTRY: IT Training