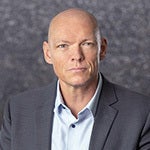 2021 Winner Profile
Etihad Aviation
Frank Meyer
RANK: #19
COMPANY WHERE WON: Etihad Aviation
AWARD DETAILS:
Etihad Aviation's pivot to agile delivery is fundamental to the company's business, according to Chief Digital Officer Frank Meyer. Everyone in the department has received training in SAFe Agile methodology this past year, and staff have been allowed to take the exam to receive professional credit.
At the same time, in 2020, the company overhauled digital capabilities in several main areas. A new website and mobile apps enhanced customer experience with features including self-service, flexibility to pay with Miles, and dashboards for trips, planning, and COVID information.
New back office RPA capabilities include automation for the capture of all information related to departures, as well as for invoicing and route profitability reports. Other developments include an innovation lab and a Network Operations Centre that allows tracking of every shipment to its exact location.
At Etihad Aviation, the IT team is part of the "Grow with Etihad" programme, tailored to the needs of staff and designed to develop skills across 8 key knowledge areas, culminating in a personal development plan for anyone who wishes to grow in their role or career.
LOCATION: UAE
INDUSTRY: Transportation and Logistics Industry