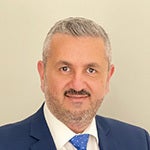 2021 Winner Profile
Bahrain Islamic Bank
Osama Nasr
RANK: #20
COMPANY WHERE WON: Bahrain Islamic Bank
AWARD DETAILS:
Osama Ali Nasr, CIO at Bahrain Islamic Bank, says he collaborates with colleagues and influences the organization and its leadership team by doing five crucial things: clarifying requirements and goals; maintaining communications; honing partnership skills; focusing on time value; and analysing vulnerabilities.
In the past two years, focusing on these aspects of management and communications has helped him lead several projects that supported the launch of a full-fledged digital bank branch. Ongoing initiatives include the use of open banking technologies; biometric online account-opening capabilities; a revamped BisB banking app; and BisB kiosks.
The BisB kiosks allow customers to open accounts and print cards instantly, request a re-issue or replacement of a prepaid card, print documents such as IBAN certificates, and do account maintenance such as updating contact information.
For his department, Nasr organizes weekly discussions and team-building activities, and has created an innovation lab that encourages IT staff to experiment and try new things.
LOCATION: Bahrain
INDUSTRY: Financial Services Industry