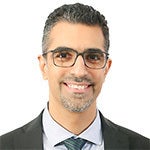 2021 Winner Profile
Bahrain Institute of Banking and Finance
Shaker AlOwainati
RANK: #23
COMPANY WHERE WON: Bahrain Institute of Banking and Finance
AWARD DETAILS:
For Shaker AlOwainati, Senior Manager of IT and Operations at Bahrain Institute of Banking and Finance, the way to collaborate and influence an organization and its leadership team is to keep engaged with involved parties while clarifying common goals. "Setting the appropriate goals for every individual, focusing on their progress, valuing their contribution and giving them enough space to express themselves," is crucial, he says.
Major projects that his team have launched include the new BIBF MyClass eLearning platform: MyClass 3.0. The system has several features including a cleanly redesigned user interface, and the addition of a centralized dashboard and navigation sidebar for a smooth user experience. It also offers a streamlined login experience that utilizes Microsoft Office 365 for faculty and students.
The IT team also uses open-source tools to create interactive slides, quizzes, and other content designed to be easily managed by the program administrators and faculty.
BIBF also launched the MyClass Virtual Classes Solution as part of efforts to address the immediate need for virtual classroom education during the pandemic.
LOCATION: Bahrain
INDUSTRY: Financial Services Industry