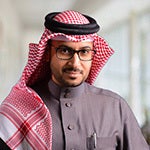 2021 Winner Profile
Mohammed Bin Khalifa Bin Salman Al Khalifa Specialist Cardiac Centr
Nawaf Abdulrahman
RANK: #24
COMPANY WHERE WON: Mohammed Bin Khalifa Bin Salman Al Khalifa Specialist Cardiac Centr
AWARD DETAILS:
Nawaf Abdulrahman, the CIO of Mohammed Bin Khalifa Bin Salman Al Khalifa Cardiac Centre in Bahrain, says his job is to lead digital transformation by working closely with leadership and leveraging his expertise to help them make smart decisions about business operations, objectives and goals. As part of this effort, he has showcased how IT solutions can transform the organization to be more productive, effective and efficient.
Recently he has planned and implemented a $60 million project to establish a state-of-art ICT infrastructure and systems in a new facility that is being built on a 44,000- square meter plot of land with a construction budget of $300 million.
This large-scale ICT complex project included an implementation of 57 sub-projects within one year, and the project portfolio includes building data centres, IT infrastructure, information security systems, core medical systems (such as HIS, CVIS and Cardio PACS) as well as business automation systems (such as ERP, HRMS, Facility Management System, RTLS, Integration Engine and advanced Business Analytics System).
LOCATION: Bahrain
INDUSTRY: Healthcare Industry