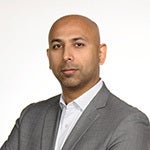 2021 Winner Profile
Al Fardan Exchange
Shafique Ibrahim
RANK: #25
COMPANY WHERE WON: Al Fardan Exchange
AWARD DETAILS:
Shafique Ibrahim, Chief Digital Information Officer for Al Fardan Exchange — one of the oldest names in the UAE remittance market and a pioneer in the UAE money exchange business— believes innovation is crucial in competitive industries such as financial services.
Ibrahim has championed Open API for Remittance as a service (Raas), which enables fintech companies and banks to provide remittance services to customers by leveraging the global banking network of Al Fardan Exchange and allowing users to avoid the hassle of getting bogged down by regulatory requirements. The company's embrace of emerging tech also led to cross-border micro-finance payments using blockchain, part of a UN initiative for financial inclusion.
The financial industry is transforming, and the Exchange's engagement with fintech has reduced operating costs, increased transaction volumes and revenue, and enhanced customer experience.
LOCATION: UAE
INDUSTRY: Financial Services Industry