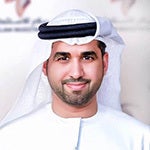 2021 Winner Profile
UAE Ministry of Health
Ali AlAjme
COMPANY WHERE WON: UAE Ministry of Health
AWARD DETAILS:
Ali Juma Alajme has steered digital transformation at the UAE's Ministry of Health and Prevention since 2013, first as IT Director then as Director of Health Information Systems, with a focus on advancing healthcare delivery in Dubai and the Northern Emirates. During this time the Ministry initiated the Wareed Project to establish a "One Patient, One Record" core system that links clinical, operational and administrative data across 17 facilities and 71+ clinics.
Along the way, the IT team developed programmes to optimise monitoring, early warning systems and decision making for a variety of health issues including congenital heart disease, strokes, behavioural health, Downs Syndrome and hearing. In 2020, Alajme's team expanded the Wareed system to 10 more clinics, and rolled out new health-treatment programmes that included a variety of responses to the pandemic, including the Manara dashboard, which acts as a central database for various dashboards to monitor COVID-19 cases, quarantine facilities , and related information. This provided essential information for management to make policy decisions and respond quickly to changing conditions during the crisis.
In addition, the SHEFAA platform was implemented to allow easy access to electronic medical records and the ability to book services such as appointments and homecare. Crucially, the ministry also implemented an electronic health information policy backed up by technology such as the Citrix NetScaler application delivery system to allow healthcare professionals remote access to patient records and monitoring.
LOCATION: UAE
INDUSTRY: Healthcare Industry