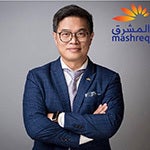 2021 Winner Profile
Mashreq Bank
Ellis Wang
COMPANY WHERE WON: Mashreq Bank
AWARD DETAILS:
Joining Mashreq Bank as senior Executive Vice President, Head of Technology, Transformation and Information just as the pandemic started seriously disrupting business worldwide, Ellis Wang hit the ground running, implementing several new innovative and automated services while supporting the transition of 4,000 employees at bank branches in 13 different geographies to remote work. The massive move took did not stop the bank from rolling out an automated payment investigation application, jointly developed with a fintech, called Sherlock.
The new payment investigation system is capable of interpreting, classifying and resolving queries and complaints, and can process charge handling from correspondents through various channels such as SWIFT, local clearing infrastructure and emails. The application lifts the customer experience by introducing digitally enabled self-service features with 240% improvement in turnaround, from hours to just seconds, and reduces transactions costs by 95%.
The bank also wanted to optimize services for customers who are not able to use electronic channels due to internal constraints or lack of IT structure, and submit paper forms: as a solution during 2020, it rolled out an AI-based vision robotic process automation platform capable of reading physical fund transfer instruments, matching signatures, and processing payments, resulting in a 200% improvement in turnaround time.
LOCATION: UAE
INDUSTRY: Financial Services Industry