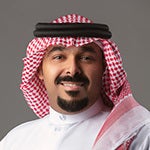 2021 Winner Profile
Tas'heel Finance
Mohammed Al-Doseri
COMPANY WHERE WON: Tas'heel Finance
AWARD DETAILS:
When he took on the role of CISO at Tas'heel Finance in June 2020, at the height of the pandemic, Mohammed Al-Doseri had his work cut out for him. The company did not have an active and tested business continuity plan and there was a limited number of staff that had laptops configured to work from home.
Al-Doseri stepped up to a leadership position and quickly moved to enable the financial services organization to function by, among other initiatives: selecting secure software for meetings and discussions; creating a crisis management team; secure VPN connections with multifactor authentication (MFA); constant monitoring of VPN and perimeters firewalls; and increasing employee awareness about phishing email, use of laptops in public areas and public Wi-Fi.
Meanwhile, Al-Doseri's team supported ongoing digital transformation implementation, helping to introduce the company's Digital Journey service for customers, which allows them to apply for a new loan or complete purchases wherever they are located, without visiting physical offices. The next step in the Tas'heel's own digital journey is the completion of an interactive chatbot service designed to answer frequently asked customer questions in real time.
LOCATION: KSA
INDUSTRY: Financial Services Industry