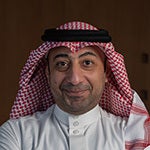 2021 Winner Profile
Gulf International Bank - KSA
Hussein Buhaliqah
COMPANY WHERE WON: Gulf International Bank - KSA
AWARD DETAILS:
Hussein Buhaliqah, CIO Gulf International Bank, led the effort to establish the first bank system in Saudi Arabia allowing customers to open and manage accounts using a fully digital process. This was done through an integration with the e-government portal (Absher) whereby locals and expats can use their e-government portal credentials to authenticate themselves without the need to visit branches for document verifications and signatures.
Up until then, such initiatives had been stymied by central bank regulations. However, working with officials at SAMA (the Saudi Arabian Monetary Agency), the Gulf International Bank built the new system by operating under a regulatory SandBox security framework.
Compliance concerns remained, however, so the bank conducted risk assessments based on agreed-upon parameters, classifying customers as low, medium or high risk, and ultimately allowing only low risk customers to use 100% digital process to open accounts, while requiring additional documentation for others. The system has adopted by other Saudi banks and now it takes less than two minutes to open an account at most banks for low-risk customers.
LOCATION: KSA
INDUSTRY: Financial Services Industry