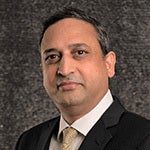 2021 Winner Profile
Oman Insurance Company
Sreedhar Suragouni
COMPANY WHERE WON: Oman Insurance Company
AWARD DETAILS:
Sreedhar Suragouni's journey at Oman Insurance Group started in 2018 with a mandate from the board to transform the company from a traditional insurer to a digital-era organization. Within his first two months at the company, he had multiple discussions with business and IT staff, and understood that the IT team needed more talent, while the business needed to address gaps in services to customers, as service uptime was sometimes less than 85% in a month.
In the last few years, the company has implemented a corporate 360 portal that can deliver pre-underwritten commercial products with zero manual intervention, reducing the end-to-end process from five days to seven minutes, and allowing distribution managers/underwriters to concentrate on value-added services and complex product pricing.
The company has also rolled out: a Digital Medical Cards systems, becoming one of the few insurers in the region to implement a 100% cardless solution for medical policy holders; and a motor insurance policy system to issue policies in real time — allowing users to go from Google search to policy issuance in less than nine minutes. This has led to 50% new sales online and 40% more renewals. As a result of these initiatives, service uptime been 99.9% for the last year and a half.
LOCATION: UAE
INDUSTRY: Financial Services Industry