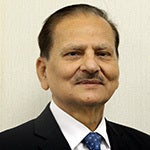 2021 Winner Profile
Alshiwari Group
Madhukar Chaturvedi
COMPANY WHERE WON: Alshiwari Group
AWARD DETAILS:
Established in 1971 as a trading house, Alshirawi Group has expanded into a conglomerate with strong presence in trading, industrial, contracting and service industries, including a global shipping and logistics company that provides distribution, storage, transport and fulfilment services to customers. To boost efficiency within this unit and insure it was meeting SLA requirements, CIO Madhukar Chaturvedi led the rollout of an automation and virtual reality system using Google glasses to identify, select and pick up items through 4 million square feet of warehousing, saving 40% of manpower costs.
The company also has implemented robotic process automation (RPA) for reconciliations for about 500 bank accounts for the group, which saved accounting manpower.
When the pandemic hit, email had already been migrated to a cloud-based system (G Suite) but the IT team needed to quickly ramp up VPN services for 2,500 staff. VPN connections before the COVID crisis numbered only 500, but were quickly expanded to all users within a matter of two weeks.
LOCATION: UAE
INDUSTRY: Financial Services Industry