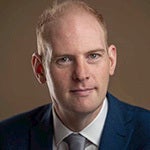 2021 Winner Profile
Dept. of Culure and Tourism - Abu Dhabi
Peter Jamieson
COMPANY WHERE WON: Dept. of Culure and Tourism - Abu Dhabi
AWARD DETAILS:
In 2020 the Department of Culture and Tourism embarked on an ambitious plan to take the top 20 services its external stakeholders consume and use process engineering and technology to make them more efficient. Many of the services started as multi-day processes, requiring various approvals, checks and reviews.
To achieve the department's goals the IT team, under CTO Peter Jamieson, had to think radically out of the box, removing manual processes, design the process that would support the new experience and power it with appropriate technology.
Through Design Thinking workshops to challenge assumptions about the hurdles in the way of reducing service delivery times — a process that produced great collaboration and ultimately reduced multiday turnaround times to meet the goal of 6-minute delivery of services.
During the pandemic, in addition to bolstering the department's remote-work ability by, among other actions, ramping up VPN capabilities and completing a migration to Office 365, the IT team developed a new website and commissioned 360-degree tours of important cultural assets so people could tour locations from the comfort of their home. A new team was set up to focused in live streaming , so chairman messages, cultural summits and art festivals all continued online.
LOCATION: UAE
INDUSTRY: Travel and Hospitality Industry