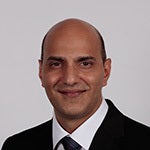 2021 Winner Profile
Bloom Holding
Mubarik Hussain
COMPANY WHERE WON: Bloom Holding
AWARD DETAILS:
As director of IT for Bloom Holdings — a group of companies which include property, hospitality, education, facilities management — Muabrik Hussain has been responsible for deploying, among other systems: the SAP S/4 HANA Cloud; Success Factors; an iSAMS school management information system; security, infrastructure and data centre upgrades; Microsoft Azure cloud deployments; and mobile applications.
The biggest ongoing project, announced in 2019 in collaboration with Etisalat, is an IoT-based Smart Buildings Solution. The project, which includes IoT, machine learning and analytics applications, is designed to, among other things, reduce costs and energy consumption, do predictive maintenance, allow for real-time views across the company's portfolio of buildings, and ultimately provide a better experience for building tenants.
Major challenges during the pandemic included deploying devices and software in a brief period of time as well as deploying new solutions to enable remote working, remote teaching and remote learning. Bloom succeeded in rolling out end-user devices for office staff, teachers and students to enable approximately 12,000 end users to work, teach and learn remotely.
LOCATION: UAE
INDUSTRY: Financial Services Industry