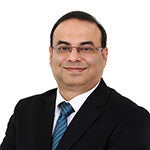 2021 Winner Profile
Bin Dasmal Group
Umesh Moolchandani
COMPANY WHERE WON: Bin Dasmal Group
AWARD DETAILS:
Umesh Moolchandani has led a variety of digital transformation projects at Bin Dasmal Group —which provides manufacturing, trading, contracting and servicing operations to customers — over the last few years, including: a CRM implementation; an IT Infrastructure upgrade to replace legacy IT Infrastructure with new architecture; a network resiliency project aimed at eliminating single points of failure in network infrastructure; and rollout of multisite backup and DR infrastructure and policies.
An upgrade of the group's ERP system, however, has had the greatest impact on the organization. The upgrade has allowed the business to optimize the total cost of ownership Oracle Cloud Infrastructure and shift the company's cost model from CAPEX to OPEX. An integrated view of company data in a web enabled architecture has improved information sharing, collaboration across functional and corporate boundaries and improved decision making for the management using advanced analytics based on single view of data.
Post-COVID, Moolchandani is looking to speed up the adoption of cloud and automation technologies and decommissioning legacy infrastructure to improve IT productivity to lower costs and allow funds to be deployed for rapid, flexible digital-solution development.
LOCATION: UAE
INDUSTRY: Manufacturing Industry