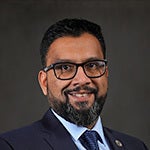 2021 Winner Profile
AMAALA
Neil Menezes
COMPANY WHERE WON: AMAALA
AWARD DETAILS:
Neil Menezes was the first employee hired in IT in 2019 at the new, ultra-luxury tourism resort AMAALA. He now has a 47-strong team of IT professionals from all over the world and handles various strategic partners and Managed Service Providers.
As Head of Information Technology, Menezes has guided the resort project — part of Saudi Arabia's Vision 2030 roadmap — according to a Digital First vision, aiming to create a digital services portfolio and a technology roadmap that enables faster time to market and is aligned to Green IT and sustainable development and operations.
In short order, the IT team has delivered a comprehensive, inter-connected smart sensors, devices and services ecosystem that enables sustainable, autonomous operations and management of the resort environment. The system generates business insights fuelled by machine learning applied to big data, integrated via a data exchange platform.
Prior to COVID, AMAALA had already adopted digital collaboration tools. Although use of collaboration software was part of a general move to digitally enable employees and partners, it ensured that when COVID hit and staff had to switch into work from home, it was business as usual at AMAALA.
LOCATION: KSA
INDUSTRY: Travel and Hospitality Industry