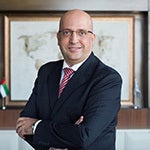 2021 Winner Profile
Al Naboodah Group Enterprises
Mario Foster
COMPANY WHERE WON: Al Naboodah Group Enterprises
AWARD DETAILS:
The scope of Mario Foster's duties as CIO of Al Naboodah Group Enterprises is broad. The group consists of more than 20 companies, offering a diverse portfolio of services and products throughout the UAE, GCC, Vietnam and Africa in the construction, commercial, investments and real estate sector. Foster has responsibility and overall decision-making authority for IT and telecoms infrastructure and operations, directly managing 5 managers and a large IT team supporting more than 3,700 different Systems users and 16,000 employees.
To achieve operational efficiency the group recently consolidated four different ERP systems comprising multiple versions of software from different vendors, into a single system spanning more than 38 different companies. The move allows for integration of data across Financial; Procurement and Supply Chain; Sales & After Sales; Human Capital Management; and Payroll modules.
By introducing a fully integrated ERP system, including BI, the group has managed to reduce the number in-house- built applications by at least 30%, forced a data cleansing, and led to the standardization of many business processes, HR policies and practices as well as finance business processes. The cultural aspect of the project was also key, helping to create a "can-do" attitude within both business and IT teams.
LOCATION: UAE
INDUSTRY: Construction and Engineering Industry