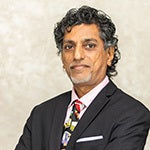 2021 Winner Profile
Dubai Investments
Venkatesh Mahadevan
COMPANY WHERE WON: Dubai Investments
AWARD DETAILS:
Incorporated in 1995, Dubai Investments has grown exponentially, currently owning over 40 subsidiaries & joint ventures across a wide array of industries with investments in a number of businesses across three core sectors — real estate, manufacturing & industrial and financial investments — across the UAE and the Middle East. Venkatesh Mahadevan has been with the group since 2012, and in the last several years as CIO embarked on a Major Digital transformation program, encompassing a new digital technology strategy focused on a centralized ERP system, a groupwide CRM framework and business process re-engineering in some areas.
As a result of the project, a new, synergistic group level approach, came to life across the group. The revamped, cloud-based strategy for the group's ongoing IT infrastructure development has been mapped to streamlined business requirements, processes and policies, enabling business staff to access accurate, more timely information.
As the pandemic reached the region, the IT team had only a few days' notice to provide remote connectivity to the groups sprawling set of subsidiaries. Infrastructure was already in place for remote work and the group sped up a planned launch of Microsoft Teams for all users.
LOCATION: UAE
INDUSTRY: Financial Services Industry