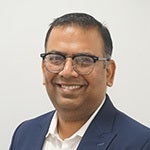 2021 Winner Profile
Caesars Bluewaters
Atul Aggarwal
COMPANY WHERE WON: Caesar's Bluewaters
AWARD DETAILS:
Atul Aggarwal takes a leadership position as Director of IT for destination resort Caesars Bluewaters, guiding management toward technologically managed processes that provide better controls, optimised processes and cost reduction. As an IT leader, he focuses on showing the benefits of technologically aided processes to get management buy-in. New applications include Suitpad, an in-room tablet solution to manage TV, digital newspapers, guest requests and an in-room dining ordering system.
The key challenge this past year was assuring guests of safety and comfort. Caesars was one of the first hotels to adapt a QR- based menu system for its restaurants, and coupled with the Suitpad, the systems gave guests confidence that they could take advantage of services while keeping the number of physical touchpoints to a minimum.
The resort also modified its guest logging system to track the COVID test status of each and every guest, and implemented a VPN and various remote communications tools to allow those employees who could work from home to do so.
LOCATION: UAE
INDUSTRY: Travel and Hospitality Industry