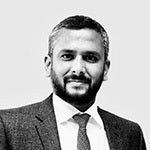 2021 Winner Profile
GEMS Education
Krishnan Gopi
RANK: #4
COMPANY WHERE WON: GEMS Education
AWARD DETAILS:
As Chief Disruption Officer at GEMS Education, Krishnan Gopi's mandate is to challenge the status quo — to disrupt from within to create agile, scalable and future-ready technology capabilities for the education needs of today and tomorrow.
GEMS have established a Technology Steering Committee (TSC), a high-level technology decision-making body, which acts as a forum to discuss technology initiatives to achieve the best ROI on investments. Focus groups have been formed to enable IT to work together with the business and education teams to identify their pain points and act as change champions across the GEMS network of schools.
Communicating the big picture to business stakeholders, eliciting their support, and keeping employees engaged in the technology transformation journey has sparked collaboration in overcoming change-management challenges.
GEMS Education has embarked on a three-year Technology Disruption Journey (FY18-21) which consists of executing initiatives segmented into: Fix the Fundamentals (FY18-19); Strengthen the Building Blocks (FY19-20); and Accelerate Disruption & Incremental Value Creation (FY20-21). The strategy has given birth to a GEMS-owned IP suite of Education technology solutions – the Phoenix Platform. Phoenix is an integrated platform that straddles multiple curricula with AI-enabled analytics for enhanced teaching and learning.
LOCATION: UAE
INDUSTRY: IT Training