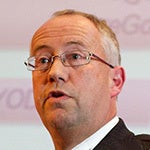 2020 Winner Profile
Financial Services Compensation Scheme
Paul Brocklehurst
COMPANY WHERE WON: Financial Services Compensation Scheme
AWARD DETAILS:
Paul Brocklehurst, CIO at the Financial Services Compensation Scheme, brought an unrelenting customer focus to 2019.
His upgrading of laptops and rollout of Office 365 has introduced modern ways of working that have boosted productivity, knowledge management and mobility. Claims are now processed in weeks rather than months (30% are completed in five days), not least because 98% of them are now submitted digitally, which also leads to print and scan savings. And not only is customer satisfaction at 82% across all financial products, but savings of over £2m a year have been captured.
An enterprise data warehouse has been built to manage data, and near-time PowerBI dashboards and data lakes created for analysing unstructured data. It has delivered actionable insights whilst championing the transition to becoming an insight-driven organisation.
Natural language processing, voice to text translation and automated analytics have been employed in checking for tone and sentiment in voice recordings and correspondence to help identify vulnerable customers quickly and respond appropriately.
LOCATION: London, United Kingdom
INDUSTRY: Government