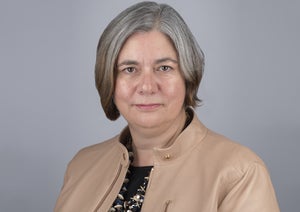 2020 Winner Profile
London School of Economics
Laura Dawson
COMPANY WHERE WON: London School of Economics
AWARD DETAILS:
Colleagues and customers are always front of mind for Laura Dawson, Director of Data and Technology Services at the London School of Economics.
She has been modernising the processes around examinations, both during exams themselves and the subsequent marking process. The use of Teams, which is now LSE's collaboration tool of choice, has allowed in-year resits to be held for the first time, and for sub-boards of examiners to be run online.
Computer rooms in teaching spaces have been redesigned to ensure students are never out of eyeline of the presentation screens. They have also been equipped with BYOD desks that can be converted quickly and easily into fully operational computer desks, making them the most popular rooms on the campus for students and academics alike.
Her deployment of various security measures includes data monitoring tool Splunk to generate early warnings of possible compromises. It is a vitally important measure where the need to access information among the student userbase can often outweigh caution. Her implementation of multifactor authentication for all students on Office 365 reduced the instances of compromised accounts in the final month of the year from 100s to single figures.
A roll-out of Salesforce in the student services centre has reduced the average waiting time for students during registration from hours to 16 minutes. She has also replaced an ageing desktop estate of 500 PCs, rolled out Windows 10 in a reluctant environment, and won the buy-in of the finance department to an IT-led project that rolled out a new finance system.
LOCATION: Houghton St, London, London, United Kingdom
INDUSTRY: Government