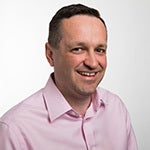 2020 Winner Profile
Haymarket
Richard Harding
COMPANY WHERE WON: Haymarket
AWARD DETAILS:
Optimisation can be just as powerful as transformation, as Richard Harding, Group CTO of Haymarket, has demonstrated.
He has added feature after feature to the media company's WhatCar? buying platform. Car dealers can now automatically respond to buyer enquiries with preconfigured offer prices, greatly reducing their workload. The reduction in waiting time for consumers to get price responses tripled quote volume in the first 24 hours of deployment.
His rationalisation of software licences delivered immediate savings without impacting the business and will generate more as contracts terminate. Licences are now only procured as needed, unused software has been cancelled, and products and services are shared across the group.
A Salesforce upgrade has provided more effective, targeted reporting. The business can also now sign contracts digitally and capture conversations with clients more easily, which has increased staff efficiency and greatly reduced the number of contract-related query memos.
Nor did he neglect transformation. The company's content marketing agency has developed a web-based commentator information system that can be accessed from any device in the world. It does away with the need for thousands of miles of cabling, screens and large logistic teams on-site at sports events.
LOCATION: London, United Kingdom
INDUSTRY: Media and Entertainment Industry