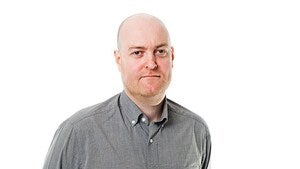 2020 Winner Profile
Auto Trader
Chris Kelly
COMPANY WHERE WON: Auto Trader
AWARD DETAILS:
With technology playing a key role in an e-commerce company such as Auto Trader, innovation is ingrained for Chris Kelly, Technology Director for the vehicle marketplace.
He has invested in an automated release pipeline that provisions, configures and deploys infrastructure and applications to an elastic public cloud infrastructure that now hosts over 80% of the company's workloads. As a result, the platform has cut deployment time from 10 minutes to 20 seconds, improved security and reduced costs.
Within the IT function, he has replaced the 'squad' approach to product development with a 'swarm' model. Colleagues are now temporarily assigned in greater numbers to a swarm to deliver high-level business priorities alongside bug-fixes, smaller projects and keeping the technical estate in good condition. As well as accelerating the pace at which IT can deliver, it has greatly improved the coherence of development for end users and the technology platform.
INDUSTRY: Telecommunications Industry