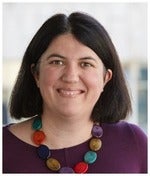 2020 Winner Profile
Church of England
Rosie Slater-Carr
RANK: #10
COMPANY WHERE WON: British Red Cross
AWARD DETAILS:
During her times as CIO at The Red Cross, Rosie Slater-Carr was the driving force behind a number of initiatives to digitise the charity. Whilst the coronavirus pandemic forced many companies to rapidly spin up a collaboration strategy almost overnight, Slater-Carr had already overseen the roll-out of Microsoft Teams in 2019, improving collaboration between colleagues and enhance the employee experience. As the lead on the charity's Green Strategy, the implementation of Teams also enabled The Red Cross to move closer towards meeting its sustainability goals, with a work from anywhere and company-wide video conferencing strategies saving the company travel costs and significantly reducing its carbon emissions.
The Red Cross has embraced a number of IT innovations over the last 12 months. Digital and online partnerships with schools have led to the charity providing young people with first aid training via Minecraft, whilst virtual reality has been used to help the charity train individuals on concepts like the bystander effect. As a member of the charity's Woman in I and DT team, Slater-Carr has played a part in assessing and editing job descriptions to ensure they appeal to a diverse group of candidates. Since the start of this initiative, the percentage of women in The Red Cross' directorate has increased by 10%.
Slater-Carr held the role of CIO at The Red Cross for five years and found interacting with her CIO peers to be one of the most valuable sources of information and advice. Since entering the CIO 100 2020, Slater-Carr has left The Red Cross and now holds the role of Chief Operating Officer for National Church Institutions at The Church of England.
LOCATION: London, United Kingdom
INDUSTRY: Nonprofit