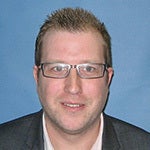 2020 Winner Profile
Oxford University Hospitals NHS Foundation Trust
David Walliker
COMPANY WHERE WON: Royal Liverpool and Broadgreen Hospitals & Liverpool Women's Hospital NHS Foundation Trust
AWARD DETAILS:
As CIO of the Royal Liverpool and Broadgreen Hospitals until October 2019, David Walliker spent most of the year in leading a massive merger with Aintree University Hospital to create Liverpool University Hospitals, a single city-wide hospital trust.
The massive challenge involved seamlessly integrating two very different infrastructures, technologies and cultures. He didn't just create one of the largest trusts in the country, he also achieved the successful transfusion of the exceptional innovation portfolio of a digital hospital onto an analogue one.
And as if that weren't enough to fill a very sizable plate, he led a life science accelerator programme that has turned the Royal into an innovation champion. The accelerator ultimately became a 5G testbed (the only such one dedicated to health innovation), trialling telemedicine solutions for supportive living and channelling them into the hospital's operations.
A particularly noteworthy accelerator solution enabled the monitoring of fluid balance for both input and output. Considered an art rather than a science, fluid balance is a key measure in flagging early warning of patient deterioration. The automation of the fluid balance was the final step in automating the early warning system, and the work resulted in a halving of onsite cardiac arrests at the Royal as well as the prevention of hundreds of deaths from sepsis.
Following the Liverpool hospitals merger, Walliker moved to Oxford University Hospitals as Chief Digital and Partnerships Officer, where he is defining the transformation and sustainability approach as well as the solutions.
LOCATION: Oxford, United Kingdom
INDUSTRY: Government