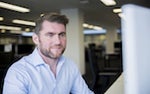 2020 Winner Profile
Clarksons Platou
Richard White
COMPANY WHERE WON: Clarksons PLC
AWARD DETAILS:
Richard White, CIO of ship broker Clarksons, has delivered an end-to-end chartering platform in the commercial maritime sector that offers vessel owners, charterers, agents and brokers a single exchange for transacting and sharing data.
What had been predominantly a labour-intensive and error-prone voice/email-transacted business has been transformed. The new platform makes extensive use of email parsing and the capture of cargo and vessel positions using APIs from cargo/trader systems along with AI-based movement tracking using land and satellite receivers.
The system captures the charter negotiation process, auto-populates legal documentation, tracks changes and supports secure payments. Vessel delays and trading patterns are identified, and data-based predictions made of vessel courses. The estimated time of arrival at ports is also modelled.
INDUSTRY: Professional Services