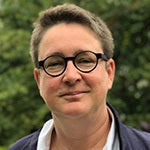 2020 Winner Profile
Ministry of Defence
Sarah Winmill
RANK: #6
COMPANY WHERE WON: British Transport Police
AWARD DETAILS:
When she was appointed the role of CIO at the British Transport Police (BTP), Sarah Winmill put into action a three-year transformational programme. Aeging infrastructure was replaced, security vulnerabilities were patched, and the department was restructured.
Innovation means different things to different CIOs and for Winmill, the innovations that have had the greatest impact at the British Transport Police have been the simplest ones. Adding basic new capabilities, such as mapping and train timetabling, to mobile solutions used by front line officers has recognisably improved the productivity of officers. Winmill had also started to explore the role facial recognition and AI has to play in assisting the BTP, a route that has led to her considering wider issues around the ethics of the technology.
As a proud member of the LGBTQIA+ community and one of the most senior women at the BTP, Winmill has long been a champion of diversity and inclusion. Internally, she encouraged the celebration of religious events from all the faiths worshipped in her department and actively supported staff from under-represented backgrounds to become Special Constables. Externally, Winmill regularly speaks about the opportunities for women in IT and has mentored several women who are just starting out in their careers.
After three successful years at the British Transport Police, Winmill left the organisation in 2020 to take up the position of CIO of business functions at the Ministry of Defence.
LOCATION: London, United Kingdom
INDUSTRY: Government