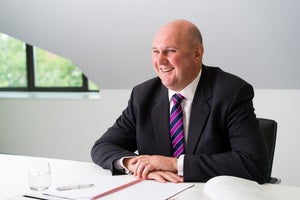 2020 Winner Profile
Galliford Try
Mark Cotton
COMPANY WHERE WON: Galliford Try
AWARD DETAILS:
In a sector that has traditionally dragged its digital feet, Mark Cotton, Group CIO of construction company Galliford Try, is making the innovation weather after persuading the board to embrace digital as the only way to compete effectively.
In 2019 he ran tech showcases exploring how what many other sectors consider to be commodity working practices and technology could deliver real innovation in construction. He then turned some of the showcase ideas into reality. Business intelligence-generated data visualisations are feeding into operational decision-making, robotics has lightened the staff workload in the shared service centre, and Teams has become such a key collaboration and communication tool that the retirement of the group-wide videoconferencing and phone system is on the cards (which will deliver significant savings).
Planned initiatives include 4D and 5D modelling for BIM-based projects, process redefinition, wearable devices, predictive analytics, intelligent automation, drone applications, and mobile data collection and presentation. There is a genuine optimism that activity can be optimised and the drudgery of bureaucracy reduced or even eliminated – disruption at its finest.
Just as importantly, he has driven a cultural shift within IT. Staff have moved away from a reactive back-office mindset to customer-focused front-office proactivity. Just one example: regional IT teams volunteered to take responsibility for the setup of construction site infrastructure and communications, historically the preserve of (and root cause of frustration for) construction project teams.
INDUSTRY: Construction and Engineering Industry