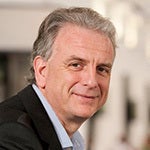 2020 Winner Profile
Government Property Agency
Neil Williams
COMPANY WHERE WON: University of Derby
AWARD DETAILS:
In 2017, Neil Williams, the University of Derby's Director of IT & Digital Transformation, drew up a digital transformation programme aligned to a new corporate strategic framework. In 2019, that masterplan matured with the deployment of new cloud-based CRM and HR/payroll systems, a new student research administration system, a new set of business intelligence reports, and AI modelling to analyse large quantities of student data.
One of the outcomes has been extensive automation of manual and Excel-based processes, improving workforce efficiency and productivity to such an extent that staffing costs have fallen significantly. Another outcome has been the generation of large data sets on customers for analysis, with the resulting insights challenging some long-treasured ideas about student behaviour and outcomes.
Because student enquiries are now held on a central CRM system, income forecasting can now be based on real opportunities rather than statistical modelling from the previous year. Income planning and decision-making has improved as a result.
Neil's introduction of digital processes using legacy systems has not only increased the number of applications to the university but also raised the conversion rate from applicant to enrolment. The resulting fall in the cost of acquisition per student has freed up resources to focus on new areas of income such as apprenticeships.
INDUSTRY: Government