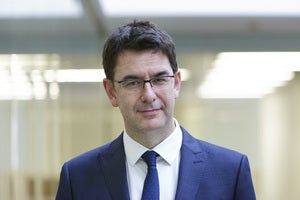 2020 Winner Profile
MHRA
John Quinn
COMPANY WHERE WON: MHRA
AWARD DETAILS:
Confronted by legacy technology, processes, data silos, services and cultures, John Quinn, CIO and Director of Transformation at the Medicines & Healthcare Products Agency, has his hands full in delivering true business transformation.
In 2019 he showed he is well on the way. He redesigned the clinical trials systems, with a combined ways of working approach leading to a single application submission route.
By streamlining entry points, processes and technology and joining up customer data, he has equipped the customer service centre to handle centralised contact through a single point. He has also incorporated AI technology so that a conversational coach can prompt agents on how to respond most appropriately to customers.
He has attacked the high cost base by launching a range of projects to transform finance, HR, procurement and IT services. By renegotiating contracts, insourcing work and changing service levels that have minimal effect on user experience, he has made substantial cuts in operating costs.
And with Brexit approaching he replaced in a short period of time 11 European systems that had been developed over decades. Despite the complexity of the underlying services, which required full end-to-end delivery through the stack, he contained costs and ensured full integration with a legacy estate still undergoing transformation.
LOCATION: 2003, United Kingdom
INDUSTRY: Government