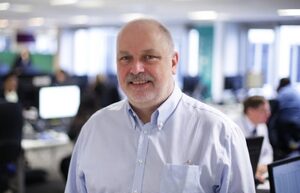 2020 Winner Profile
DWP Digital
Simon McKinnon
COMPANY WHERE WON: DWP Digital
AWARD DETAILS:
Few organisations can match the customer complexity and numbers, and sheer payments volume, of the UK's pensions and benefits system. In this vast and labyrinthine regime, Simon McKinnon, interim Chief Digital and Information Officer at DWP Digital, has been driving transformation to deliver services sustainably and cost-effectively.
For staff, the rollout of fast WiFi was completed, new collaboration tools introduced and 50,000 ageing PCs upgraded to faster and more powerful mini PCs. The continued move to cloud hosting of services, along with the modernisation of older digital services, has slashed the downtime metric from 2% to 0.03%. Or to put it another way, the service uptime improvement is the equivalent of employing an extra 1,200 front-line officers to help claimants.
For customers, a digitally enabled universal credit welfare payment became nationally available. Sicknote submission for those too ill to work became possible via smartphone rather than through personal presentation at a Jobcentre, saving staff time as well as enhancing the customer experience. And the instant pension forecast system was used by over 10 million individuals, while the processing time for initiating state pension payments for 700,000 new pensioners was halved.
INDUSTRY: Government