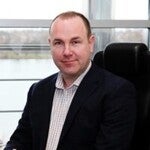 2020 Winner Profile
RPS Group
Alastair Rutter
COMPANY WHERE WON: Keepmoat Homes Ltd
AWARD DETAILS:
Alastair Rutter, IT & Digital Director of Keepmoat Homes, delivered big advances last year for the housebuilder in customer satisfaction, staff experience and construction operations.
Greater customer satisfaction has come from his development of a personalised ERP-integrated customer account that allows a customer to customise the kitchen and bathroom of a home under construction.
A better staff experience has been achieved by rolling out Windows, Office 365 and an always-on VPN capability that gives access to resources irrespective of location. It has also brought an end to regular requests for IT support.
As for construction operations, site visitor sign-in is now performed on a tablet rather than a sheet of (subsequently scanned and stored) paper. It is the result of a low-code deployment helping replace traditional paper processes with low-investment apps.
Meanwhile a pilot project is using smart camera technology to recognise whether site operatives are wearing hard hats and high-viz vests in required areas, automatically informing the site manager of non-compliance so that early accident-preventing action can be taken.
INDUSTRY: Professional Services