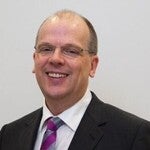 2020 Winner Profile
Burton's Biscuit Company
Paul Cooper
COMPANY WHERE WON: Burtons Foods Limited
AWARD DETAILS:
Paul Cooper, Head of Information Systems at Burtons Foods, reckons the initiative that generated most value last year was encouraging staff to get the best out of an Office 365 deployment – in particular, Teams. It not only boosted personal productivity but collaboration across the business, speeding up the weekly gathering of data for reports as well as work on customer proposals.
He also replatformed the on-premise infrastructure and took a first big step into the cloud, with disaster recovery. Performance has improved, and a scalable infrastructure has been created to support two company acquisitions, allowing the newly onboarded staff to communicate and integrate with their new colleagues.
He has rolled out new planning and material purchasing solutions that will increase purchasing accuracy and reduce stockholding, thereby improving cash management as well as the visibility of material requirements. Chatbots are also under development to support employee interaction with HR and IT. An upcoming move to an SD WAN will deliver a step-change in capacity, optimise performance, prioritise traffic and cut costs.
INDUSTRY: Manufacturing Industry