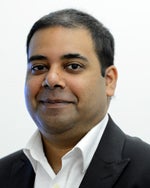 2020 Winner Profile
Welcome Break
Kash Ghedia
COMPANY WHERE WON: Welcome Break
AWARD DETAILS:
Welcome Break CIO Kash Ghedia has driven a digital strategy that focuses on automation and making the customer experience interactive and engaging.
The rollout of 200 digital kiosks across KFC and Burger King has brought more menu choice and faster service, leading to an increase in sales and basket value across both brands. At Starbucks, a tablet-based solution that takes and processes orders and payment in outside seating areas has likewise grown sales and revenue.
Ghedia has trialled LED walls that can display adverts and messages. Equipped with camera analytics, they can react to customer dwell, footfall and reaction, allowing more engaging content to be built. So successful has it been that 2020 will see it rolled out to all sites. Digital menu boards have been installed at Starbucks sites, with time-sensitive messaging.
Meanwhile new parking app at a truck park has allowed drivers to book parking in advance or when they arrive through their phone. It has saved time for drivers and driven business.
Customer experience is only part of what has been an innovative year. Starbucks drive-throughs have been equipped with digital timers and dashboards, allowing the business to monitor speed of service at all sites in real-time and improving performance.
And security and resilience has been boosted by refitting over 40 comms rooms, and upgrading and hardening network switches to standardise IT service across sites and the network stack.
INDUSTRY: Retail Industry