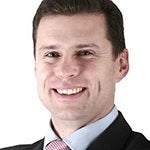 2019 Winner Profile
European Bank for Reconstruction and Development
Richard Williams
COMPANY WHERE WON: European Bank for Reconstruction and Development
AWARD DETAILS:
Not all CIOs get to do the exciting digital stuff. But Richard Williams, MD for IT at the European Bank for Reconstruction and Development, has been doing the simple things brilliantly, wrapping his efforts in a strategic plan and constantly banking marginal gains. It's an approach that has taken him and the bank a very long way.
A development bank set up to help former Soviet countries transition from centrally planned to market-based economies, the EBRD now applies its transition focus to a much wider range of countries than its original mandate. There is a pressing need to modernise its old and creaky tech platforms.
To do this, after a number of false starts under previous management, Williams has laid out an ambitious portfolio of work to modernise the team, fix the underlying technologies and benefit from the digital opportunity by moving to the cloud, adopting robotics and remodelling the core banking platform. The challenge is huge, with resource constraints requiring original thought, courage and resilience.
Appointed in 2017, so far he has remodelled the team, identified and begun to transition to new commercial partners for non-core activities, released version 1.0 of the new banking platform, and delivered 25% more services for the same cost. That's some change.
In a technology shop that has done everything itself for a quarter of a century for an organisation with over 60 national shareholders and spread over more than 40 countries, outsourcing services or using the cloud represents innovation by itself. The fact that Williams and his team have managed to do this as well as experiment with digital initiatives such as deploying a first robot to help financial report processing, redesigning the banking operation, and using tech to release people from their desks and get them more mobile is innovation indeed.
LOCATION: London, United Kingdom
INDUSTRY: Financial Services Industry