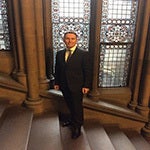 2019 Winner Profile
Manchester City Council
Bob Brown
COMPANY WHERE WON: Manchester City Council
AWARD DETAILS:
Manchester City Council's digital team has continued its relentless drive for operational service excellence, business transformation, outstanding user experience and resident engagements to ensure that the services provided by the council are appropriate for all under the leadership of departing CIO Bob Brown. With a stated ambition to be recognised as an outstanding digital exemplar, over the last year the council and Brown's IT function have continued to make huge investments in its infrastructure and technology.
A new set of services, underpinned by ServiceNow, which includes self-service and AI is being rolled out, along with a new social care platform on Liquid Logic covering Children's and Adults services. Manchester City Council is making significant investments is its WAN, LAN and WiFi, and is benefitting from a new data centre model supported by its outstanding relationship with Nutanix and UKFast.
The council is growing its relationship with Google, implementing a new telephony platform that will remove desk-based telephones across its estate, rolling out a new education platform having migrated away from our long term partner, and launched its Digital Experience Programme (DXP) where the residents of Manchester help shape the city's digital engagements for the next 5-10 years.
Over the last year Manchester City Council has also welcomed Amazon, Microsoft, HPE, Gamma, The Loop, GCHQ, Republic of Things, and countless SMEs into the city's digital sector. Building on the strength of its world class universities and Social Value strategy (20% weighting added to the procurement decision to help benefit our locality) the region is now the fastest growing digital sector outside London in the UK.
After four years at the helm of ICT and digital transformation at MCC, multiple CIO 100 member Brown joins the main board of EMIS as Chief Solutions Officer in May 2019.
LOCATION: Manchester Town Hall, Albert Square, Manchester, United Kingdom
INDUSTRY: Government