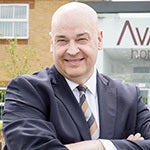 2019 Winner Profile
Avant Homes
Peter Adams
COMPANY WHERE WON: Avant Homes
AWARD DETAILS:
Peter Adams sees his role as Group Business Systems Director of Avant Homes as one of adventure. His aim is to embrace change and make an enduring impact on the operational capability of the business environment.
To support the housebuilder's high-growth business strategy, Adams undertook a thorough modernisation of the internal core infrastructure in 2018, replacing outdated implementations with agility-enabling alternatives. His initiatives included massively improving WAN capacity while reducing costs, migrating the data centre to the cloud to remove performance issues at neutral cost and radically reducing critical service outage (bringing a forecast saving of 10%, a 70% drop in committed storage and a £750,000 saving in capital investment), and deploying a group-wide unified communications platform.
Adams and his team overhauled management information strategy and solutions to provide reliable, timely applicable reporting. There is now a single automated source of accurate information showing actuals, budgets, variances and trends. Supplemented by dashboards with drill-through capability in critical operational areas, information is now readily at hand and can be combined on a single page, with colour-coded risk levels.
And while construction traditionally eschews modern digital technologies beyond the use of transactional systems and website lead processing, he implemented several small projects last year to improve elements of the customer journey. They included a fall-over service to capture unanswered phone calls to site sales offices: a three-week pilot programme identified a probable 40,000 missed calls rather than the expected 2,000, and the service has subsequently been rolled out. An app to support quality inspections and issue tracking was also deployed.
LOCATION: Chesterfield, United Kingdom
INDUSTRY: Construction and Engineering Industry