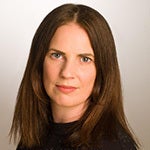 2019 Winner Profile
Incuto Ltd
Jennifer Anderson
COMPANY WHERE WON: Incuto Ltd
AWARD DETAILS:
At Incuto, CTO Jennifer Anderson has led the development of a high-tech solution for the fintech startup's credit union market that allows them to compete much more effectively with payday lenders.
The software as a service tool takes credit unions to the front of the digital revolution and allows them to compete digitally with established and challenger banks without investing in hosting infrastructure and software themselves. The offering, which includes a mobile app, allows credit union members to apply for loans online, and automated decision-making allows loans to be issued in minutes.
Following a review of infrastructure performance and predicted business growth last year, she also moved the company platform from a standard hosted virtual server to a high-availability and scalable cloud solution. It means that Anderson and her team can now start to apply Big Data and BigQuery to analysis, before exploring machine learning to help credit unions automate their processes further.
In the past 12 months, she has switched development away from a waterfall model to an agile approach, with fortnightly sprints and continuous integration releases. One element of this has been the introduction of automated deployments through a process-driven pipeline, speeding up the development cycle and significantly improving delivery and quality.
LOCATION: Ilkley, United Kingdom
INDUSTRY: Telecommunications Industry