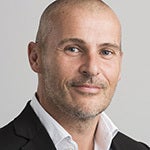 2019 Winner Profile
Hermes
Chris Ashworth
COMPANY WHERE WON: Hermes
AWARD DETAILS:
In a world where technology is a disruptor, the business that seizes the digital day gives itself the chance of corporate mastery. At Hermes UK, CIO Chris Ashworth has embraced AI and rich use of data to strengthen the customer experience, raising the profitable prospect of customers moving their service experience from retailers to the parcel delivery company.
He is nearing the end of a three-year strategy to replatform Hermes UK on a cutting-edge, scalable infrastructure that will support the business's ambitious growth opportunities. By removing IT bottlenecks related to volume and speed of data, it will transform Hermes from a legacy to a digital business.
Legacy systems have been replaced, products and services migrated and developed on a new, loosely coupled architecture that allows easy onboarding of other systems and services and seamless integration into the core systems. The evolution – the scaling of the IT infrastructure, real-time transactions, AWS cloud and replacement of legacy – has supported the business's most successful peak season to date, including the busiest day in its history, with 650 IT transactions per second, every second.
The introduction of a real-time data model last year underpins a now-focused, exception-based management structure. In the medium term, the use of data will drive a move into predictability, machine-based learning, and the creation of a decision engine to drive step changes in performance.
Throughout 2018 Ashworth and his IT team released a host of products and services to improve customer interaction on all platforms. They include real-time tracking and friendly tracking messages, co-branded tracking pages and customer personalisation, diversions to safe places and neighbours (increasing first-time delivery success), safe-place photos and proof of delivery signatures.
Customers can now self-serve using web tracking, which reduces contact handling costs for Hermes and its clients. A chatbot that automates tracking enquiries for parcels is available all day, every day. The moves have led to steep drops in the number of inbound calls and parcel diversions. Delivery disputes have also dropped as a result of safe-place photos and signatures.
LOCATION: Leeds, United Kingdom
INDUSTRY: Transportation Industry