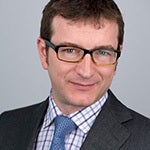 2019 Winner Profile
RM
Giles Baxter
COMPANY WHERE WON: RM
AWARD DETAILS:
RM Group CIO Giles Baxter runs a tech department that serves customers as well as business colleagues. The business alignment of the function is notably clear as a result.
At the enterprise level, he has fundamentally transformed the technology platforms used by the business to free up funds for investment. For example, a wholesale migration of infrastructure to the cloud is now largely complete, an end-to-end ERP transformation programme is under way, and robotic process automation deployment is being scaled up following the successful completion of a pilot.
Baxter also drives the IT change portfolio to bring to life the products and services that RM sells into the education sector. His investments in technology for customers include a new e-platform for auto-marking handwritten exams, which combines artificial intelligence and cognitive learning capabilities from multiple cloud service providers. The potential value of the system is unmissable: freeing teachers up to teach rather than mark, and giving students consistent results earlier.
LOCATION: RM, New Mill House, , 183 Milton Park, , Abingdon, Oxfordshire, United Kingdom
INDUSTRY: Telecommunications Industry