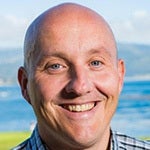 2019 Winner Profile
Northwood Hygiene Products
Paul Boardman
COMPANY WHERE WON: Northwood Hygiene Products
AWARD DETAILS:
Every CIO would like to report that the past 12 months have been wonderfully transformational, but the reality for Paul Boardman, Group IT Director of Northwood Hygiene Products, is that the digital foundations are still under construction and process innovations are incremental.
He has, though, brought the paper hygiene products maker to the point where realistic opportunities in the digital manufacturing space are emerging, and IoT and analytics trials have begun. The application of machine learning techniques to look for cause and effect parameters around yield improvements in papermaking holds out real bottom-line promise.
His team's renovation of the company's core ERP continues with a move to a cloud-based suite across all Northwood's constituent companies. The aim is to remove significant risk and cost from the 20-year-old legacy systems, enabling the business to grow rapidly and letting his team focus on improving business outcomes rather than managing technical overheads. Scoping and design is complete, and testing is in progress with the key users and functions.
One 2018 example of how he has embedded cloud solutions in business processes is the creation of a knowledge sharing platform across several manufacturing facilities that has improved safety performance and the control of key accreditations. It has reduced duplication and the risk of data loss, with high transparency making continual improvement and trend analysis a part of everyday business rather than the subject of time-consuming annual reviews.
LOCATION: Bolton, United Kingdom
INDUSTRY: Manufacturing Industry