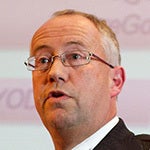 2019 Winner Profile
Financial Services Compensation Scheme
Paul Brocklehurst
COMPANY WHERE WON: Financial Services Compensation Scheme
AWARD DETAILS:
By exploring, evaluating and investing in technologies to improve efficiency, reduce costs and establish data as a strategic asset for the FSCS (Financial Services Compensation Scheme), CIO Paul Brocklehurst has made good on his function's promise as the prime enabler for transformation.
In 2018, his team transitioned all claims processing activities to a single strategic supplier, transformed the main processing platform and customer portal to improve service, cut claim turnaround times and raised customer satisfaction, while reducing cost to serve.
Brocklehurst's workplace transformation project has rolled out modern ways of working to improve productivity, knowledge management and mobility. Laptops have been upgraded, Office 365 deployed, and an enterprise data warehouse created to manage data and deliver actionable insights.
Projects have been delivered over a series of agile release every month across the claims platforms, customer portal, data warehouse and records management. The return on investment on the revised claim process alone includes savings on costs (over £2m a year) and time (claims decisions are now in made in weeks rather than months). Digital submission of 98% of claims (an increase of 80% in the year) has saved over £150,000 in print and scanning, and boosted customer satisfaction (now at 90%+ levels across all products).
And he didn't stop there. Last year, there was a portal rewrite, content review, rationalisation and relaunch, and the introduction of FAQ, webchat and knowledge base platforms. He has adopted a cloud-first strategy and migrated applications to the cloud.
He also ran a discovery programme to better understand the as-is customer journey, address current pain points and construct a fit-for-purpose delivery roadmap. An enabling technologies review of low-code/no-code platforms was completed, and he moved further into data analytics to speed up transforming the FSCS into an insight-driven organisation.
LOCATION: London, United Kingdom
INDUSTRY: Government