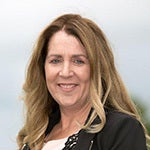 2019 Winner Profile
HSE Ireland
Jane Carolan
COMPANY WHERE WON: HSE Ireland
AWARD DETAILS:
Business change and benefits management are the principles that Jane Carolan swears by. Born in London, the Irish Health Service Executive's National Director for Health Business Services insists that every tech implementation focuses on these two factors.
In 2018 her priority was to expand the deployment footprint of national systems such as the national integrated staff records and payroll programme, the national integrated financial management system and the national digital estates programme. However, she seeks to balance the delivery of digital health solutions with a process of continual innovation to provide agile technologies that can pivot to the needs of users (patients, clinicians and managers).
To the people, process and technology underpinning of technology projects she has added data. In fostering a data-driven culture to improve health services in Ireland, she has focused on quality improvement rather than data collection. This means balancing the traditional approach as well as pushing forward with more agile and innovative data analytics for immediate use. Carolan is therefore creating a collaboration programme to strengthen relationships with partners, academia and startups and use data to drive immediately actionable insights.
For example, last year she commissioned a first ever digital "collaborathon" with Health and Social Care Northern Ireland, and with utility company Ervia. The three organisations each brought forward three challenges in their digital journeys, throwing down the gauntlet to some of Ireland's brightest minds. Multidisciplinary teams worked together to solve the nine challenges, sending out a clear message that competitors, small businesses, customers, citizens, and challenge owners could all cooperate in finding solutions. The one-day event saw challenges being solved by all three organisations, and there are plans for a bigger collaborative hackathon this year.
LOCATION: Oak House Millenium Park Naas, Kildare KE, Ireland
INDUSTRY: Government