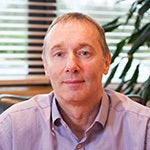 2019 Winner Profile
Cabot Credit Management
David Churchill
COMPANY WHERE WON: Cabot Credit Management
AWARD DETAILS:
At Cabot Credit Management, Group CIO David Churchill is luxuriating in the business opportunities created by emerging technologies.
Churchill and his team have combined digital with advanced analytics to tailor individual treatments for customers and to allow them to engage with the company via their channel and time of choice. Following the implementation of live speech analytics, calls which need further analysis have fallen by 40%.
In the past 12 months, he has partnered with the cloud-based Salesforce platform to enhance digital interactions. The company can now target customers with specific information, relevant to their circumstances, through email, live chat, web and mobile apps. As a result, there has been a 38% year-on-year increase in active digital customers, and customer advocacy has risen four-fold in terms of positive Google reviews.
The next step will be more AI and deep learning to create bots, the use of cognitive computing to generate individually tailored contact strategies, and the targeting of new opportunities through more partnerships.
LOCATION: West Malling, United Kingdom
INDUSTRY: Financial Services Industry