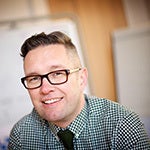 2019 Winner Profile
Leeds Teaching Hospitals NHS Trust
Richard Corbridge
RANK: #30
COMPANY WHERE WON: Leeds Teaching Hospitals NHS Trust
AWARD DETAILS:
Achieving change in the hospital space depends heavily on working out how to operate the complicated controls of what is an organisational supertanker. Richard Corbridge, the man on the bridge at the Leeds Teaching Hospitals NHS Trust as Chief Digital and Information Officer before joining Boots as its Director of Innovation in April 2019, was crewing the ship with robots to steer a vast data cargo into fruitful waters.
Corbridge and his team led the way in creating machine learning algorithms to predict the date and time a patient will be fit for discharge from hospital the moment they are admitted. The cloud-based algorithm can query live environmental data across areas as diverse as religious festival dates, school holidays, air quality, traffic density and weather as well as the trust's own data on staffing, previous clinical and individual experience. It helps ensure that any necessary social care is ready, and gives the patient and family a target goal to be fit enough to return home.
The Leeds NHS Trust also partnered with another NHS provider on delivering an algorithm to predict which patients are most likely to miss appointments, and turning it into a robotic process automation development. RPA-generated messages can be sent to enable a conversation with the patient prior to the appointment, and a short video sent to introduce the clinical team to patients, reducing the fear of the unknown and so cutting the number of missed appointments.
Under a new project in 2018, Corbridge's function introduced augmented reality to access clinical expertise across the trust's seven dispersed hospital sites. Orthopaedic surgeons can now see patients in front of colleagues from other parts of the trust in augmented reality. The deployment of the same AR technology onto ambulances has allowed high-speed responses to suspected strokes and related illnesses on the journey to hospital. In situations where every minute matters, the technology has been fundamental in improving patient outcomes.
And with around 70% of outpatient appointments estimated as being completable virtually (via video technology or assured remote data collection), Corbridge championed the move to virtual consultations for outpatient appointments. In late 2018, the trust went live with the first 60 concurrent virtual appointments across different disciplines.
Progress on the electronic health record was proceeding rapidly under Corbridge and public sector IT observers will hope it continues to do so. Nine releases were delivered in 2018 for this platform for integrated care for over 20,000 users supporting patient care for 2.4 million citizens. In December 2018 the system passed over 90 million messages around the trust's hospitals. With the average healthcare professional collecting over 100,000 pieces of data, this digital platform is clearly the ideal medium to deliver integrated care.
LOCATION: Leeds, United Kingdom
INDUSTRY: Government