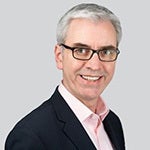 2019 Winner Profile
Shaw Trust
Alan Crawford
COMPANY WHERE WON: Shaw Trust
AWARD DETAILS:
Aligning values, realising the digital potential, and driving through big and difficult organisational change programmes are what inspire Alan Crawford. Last year he spent the first six months as CIO at skills business City & Guilds Group before moving to disability charity Shaw Trust as Chief Digital and Information Officer.
In 2018, his team shifted City & Guilds' business-critical systems to the public cloud under Crawford to deliver vocational education content seamlessly across continents, make a significant saving in operating costs, and reduce student drop-out rates by using data analytics to gain a better understanding of student journeys.
Crawford and his department also developed a City & Guilds mobile app to allow students to access their curriculum and upload coursework for trainers to mark. It amassed significant volumes – nearly 900,000 unique logins and 20 million page views in three months. With six digital products in the vocational education portfolio, he embarked on building a learning platform, using micro services and container technologies to create smaller, reusable elements.
Joining Shaw Trust shortly after its acquisition of skills businesses Prospects Group and Ixion Holdings, he rapidly formulated a digital and technology strategy for a non-profit that had doubled in size. He is now working on phase 1 of a change programme to improve collaboration across the merged organisations. At Shaw Trust he has already identified a couple of rough digital diamonds that have the potential to be jewels in the charity's crown. They include a team of disabled people who provide digital accessibility testing for corporates and public sector organisations.
LOCATION: Bristol, United Kingdom
INDUSTRY: Nonprofit