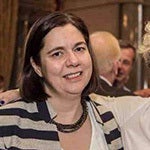 2019 Winner Profile
London School of Economics
Laura Dawson
COMPANY WHERE WON: London School of Economics
AWARD DETAILS:
At the London School of Economics and Political Science, its Director of Data and Technology Services, Laura Dawson, has been acting as tech broker, evangelist, coach and consultant as well as deliverer.
The key teaching space improvement she led on during 2018 was an 'on air' facility allowing lecturers to pause a lecture to allow interaction. This, plus the introduction of spot audio capture (so that lecturers can move around freely without a lapel mic), has increased the positivity and takeup of lecture recording for students.
With a large part of the e-development team moving on, she brought in a third party to work with the team (which managed and supported the major systems for students selecting their courses and registering for the start of the academic year) to identify areas of concern. What was predicted by colleagues to be the biggest crisis ever turned into a notably smooth start of the academic year. By refusing to get defensive about what was found and bringing in all parties across the school, she was able to deliver what was needed.
But most of all, Dawson, who was appointed in late 2017, has taken on a culture where the IT function was not regarded as a full partner to the rest of the university, which had fostered a degree of team defensiveness that got in the way of collaboration and becoming a trusted partner. Her initiatives to address these issues are bearing fruit, with the organisation and the tech team more open and engaged with each other.
Service line management has been introduced to ensure the team has end-to-end accountability for IT services  and to provide clear escalation routes for service issues so colleagues know who to go to. The architecture function has been grown to bring together areas such as data standards and architecture. Cybersecurity has also been expanded and will be moved out of the data and technology function to ensure IT is not seen as 'marking its own homework'. She has also set up a business partnering function so that business colleagues can be assisted in understanding the art of the possible and the priorities of the university's strategy.
Laura Dawson discusses Tech for Good on the CIO UK podcast

LOCATION: Houghton St, London, London, United Kingdom
INDUSTRY: Government