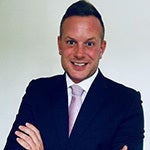 2019 Winner Profile
London South Bank University
Alex Denley
COMPANY WHERE WON: London South Bank University
AWARD DETAILS:
Alex Denley's vision of the future couldn't be clearer. Better IT resilience, lower operational costs and greater platform flexibility represent a fully achievable treble for the Director of Innovation and Transformation at London South Bank University.
Under his leadership a hyperconverged infrastructure has been implemented by migrating core services away from bare-metal rack space, notching up 60% cost savings over five years. More than 100 manual processes have been automated via online forms and robotics, saving hundreds of man hours and accelerating process speed.
The student portal has been reinvented as a mobile-responsive digital dashboard, and an Office 365 rollout has allowed the retirement of legacy software and application estate and freed up revenue for innovation projects. Lecture capture technology records and digitises the learning experience so students can access everything anywhere.
With major savings, flexibility and security already banked, he is now targeting the replacement of 30-odd manual administrative processes with a virtual robot to free up resources and capacity. He intends to take chatbots to the next level by introducing a virtual customised multilingual avatar with facial recognition capability and integration to Alexa. And he is scoping out a cloud-based virtual desktop Infrastructure to reduce physical hardware and deliver education over a browser.
LOCATION: London, United Kingdom
INDUSTRY: Government